2016-18 Board Members

Luke Walsh – President  – Catawba Valley CC

I graduated from Indiana University in 2000 and then began teaching 8th grade mathematics at a small rural school in North Carolina. After five years in the public education system, I took a break to hike the Appalachian Trail. In 2007, I earned a masters in mathematics from Appalachian State University, and since then I have been a full-time mathematics instructor at Catawba Valley Community College (CVCC).  When I am not in the classroom, I love camping with the family, visiting breweries, playing disc golf, and graphing mathematics.

Laura Taylor – President Elect – Cape Fear CC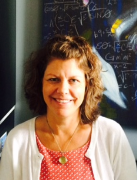 I have been teaching at CFCC since 2004. I have taught a wide range of courses. I am thrilled for the opportunity to be part of a community that constantly works to improve the mathematics in North Carolina while supporting the hard working instructors in the trenches. 

Glynis Mullins – Past President – Pitt CC

I have been teaching Developmental Math at Pitt CC since 2002. For the past 7 years, I have been the Developmental Math Coordinator.  I graduated in 1991 with a B.S in Mathematics from Elizabeth City State University. I recently received a Masters of Education in Curriculum/Instruction from Central Michigan University in 2016. Also finishing a masters in Education in Technology (2017).   I have served on the NCMATYC Board since 2010 as Eastern VP (2010-2012), Pres-Elect (2012-2014), President (2014-2016), and finally Past President (2016-2018). I love having fun and relaxing when I get a chance to do so.  I love to spend time with family, travel, and listening to music.

Tammy Sullivan – Western Region VP – AB Tech CC

I started teaching in 1988.  I am currently at Asheville-Buncombe Technical Community College.  NCMATYC is a wonderful organization and great resource.  I am excited to give back to something I gain so much from.

Amanda Klinger – Central Region VP – Davidson CC
This is my 13th year teaching at Davidson County Community College.  I teach on the Davie campus, a satellite campus of DCCC, which means I am the only math teacher on my campus.  I have pretty much taught all of the math courses, but I would have to say that Statistics is my favorite.  In the little spare time I have, I enjoy playing recreational co-ed volleyball and reading.  I am proud to be part of NCMATYC!

Jay Martin – Eastern Region VP – Wake Tech CC
Beth Tsai – Secretary – Wake Tech CC
Heather Barker – Treasurer – Elon University
I graduated from Meredith College in 2006 and started teaching high school mathematics at the same high school I graduated from in rural Caswell County.  After 2 years of teaching high school I decided to return to school and completed my Master's in Pure Mathematics at UNCG.  In 2010 I started teaching at Piedmont Community College and taught there full time for five years.  While there I focused mainly on developing coursework for Quantitative Reasoning and Statistics.  I left PCC in 2015 to start teaching at Elon University.   At Elon teach General Statistics and Business Calculus.  I really enjoy being a part of NCMATYC as a way to get new ideas in the classroom and help the mathematics community in NC communicate and share with one another across the state.

Questions, comments, concerns can be sent to the board at ncmatycboard@gmail.com