The 32nd Annual NCMATYC Conference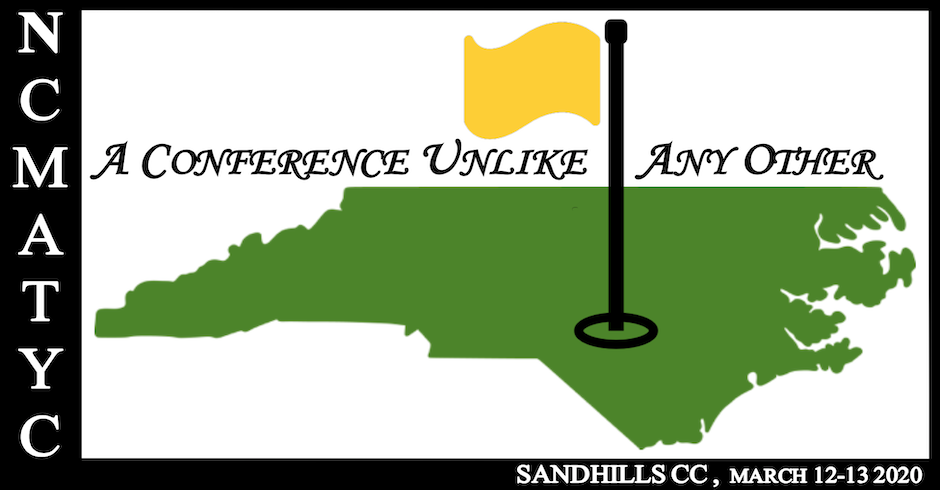 We are sad to announce that the NCMATYC conference is canceled but happy to help keep all of those involved with our conference safe and healthy.
We have emailed a list of all of the attendees to the Hampton and Hilton hotel.  They are going to do their best to get all of the hotel cancellations completed by 9:00 pm.  People can call the hotel after 9:00 pm if they have not received a confirmation. The hotel number is 910-693-4330.  If you would still like to stay at the hotel, then the hotel will still honor the price and reinstate the reservation. You will need to handle that over the phone.   
If you reserved at a different hotel, then you will need to take care of that yourself. 
During the next week, the board will be trying to figure out what NCMATYC should do next.  Should we reschedule to a later date in the semester, have a summer conference, wait to till next year, etc.  We will certainly make this decision as fast as we can, so that we an handle any possible refunds.
We appreciate your flexibility and patience in the upcoming weeks as we move forward.
The 32nd NCMATYC conference will be held on the campus of Sandhills Community College, in Pinehurst, North Carolina.

Boasting one of the most beautiful community college campuses in the state of North Carolina, Sandhills Community College's main campus is nestled in the heart of the sandhills of North Carolina. With sprawling-green lawns, a beautiful fountain, and picturesque architecture, you'll have plenty to see both inside and outside of the classroom at this math-filled conference.

Tentative Schedule
Thursday:
8:00 am – 9:00 am: Check in and Registration
9:00 am – 10:00 am: Opening Session
10:00 am – Noon: Presentations
Noon – 1:00: Lunch
1:00 – 2:00 Keynote Speaker
2:00 – 3:00 Business Meeting
3:00 – 5:00 Presentations
Friday:
8:00 am – 10:00 am: Presentations
10:00 am – 11:00 am: Keynote Lunch Speaker
11:00 am – Noon: Lunch
Noon – 1:00: Closing Session
Attendees
Lodging
There are two conference hotels, which are side by side, for attendees to choose. See the information below and use the online reservation link.

1) Hampton Inn & Suites Southern Pines-Pinehurst
200 Columbus Drive, Aberdeen, North Carolina 28315
Phone Number 910-693-4330
Price: $106 per night.
Click here or online reservation.

2) Towne Place Suites Southern Pines Aberdeen
205 Columbus Drive Aberdeen, North Carolina 28315
Price: $106 per night.
Click here for online reservation
Registration
Registration for the 2020 NCMATYC Conference is currently open. To register for the conference, use the following link: https://forms.gle/qNWCVC6xXufUonyU6.

The deadline for early registration for the NCMATYC registration is February 7, 2020.

No refunds will be given after Wednesday, February 19, 2020.
Travel Grant Awards
The 2018-2020 NCMATYC Board is currently accepting applications for Travel Grants to both the 2020 NCMATYC Conference. This year, the board is excited to offer six $200 grants (with free NCMATYC registration) to NCMATYC in Pinehurst, North Carolina.

To submit an application for the 2020 NCMATYC Conference Travel Grant use the following link: https://forms.gle/11L3Yapasx6pXRp5A. The deadline for NCMATYC Travel Grant Applications is Monday, January 13, 2020. CLOSED

Presenters
Submit a Proposal – Closed. Thanks to all who submitted.
Vendors
We appreciate all of the vendors for their generous support. The conference would be much different without their support. Vendor registration can be found at this link https://forms.gle/9fcYJ2LBGEFX23dD8.