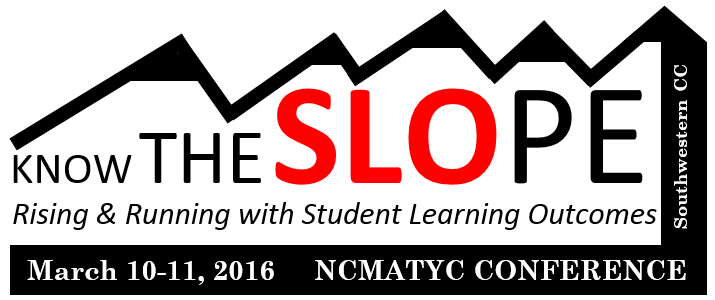 SCHEDULE OF EVENTS AND PRESENTATIONS
NCMATYC is again using the website Sched to host an online schedule of the conference. There are many opportunities for presenters and attendees with the site. People can visit the site at https://ncmatyc2016.sched.org/. The paper program can be found here.
THE KEYNOTE PRESENTATIONS
In collaboration with the Southwestern CC, NCMATYC recorded live streaming of three keynote presentations can be seen using the following links. Each presentation is about 45 minutes.
Eric Schulz – https://livestream.com/southwesterncc/events/4939459
Thursday 12:50 pm Polynomials, Roots, & Critical Points: A Complex Relationship A cubic polynomial with one real root can have two critical points, a single critical point, or no critical points. Surprisingly, the relationship of the roots to each other in the complex plane determine the number of critical points. Even more astonishing is the association between of the roots of the cubic polynomial function and the roots of its derivative!
Billy Hix – https://livestream.com/southwesterncc/events/4939566
Thursday 2:50 pm Math Really Rocks – a Teacher / Astronomer's Journey
This uplifting and inspirational talk will focus on members of the mathematics and space science community who break the stereotype that many have of those in the mathematics profession. From 400 years ago and a "moose in the house" to the team members who landed a car on Mars, you will learn first hand and be able to share with your students that Math Really Rocks!
Jonathan McDonald https://livestream.com/southwesterncc/events/4939590
Friday 11:50 am Engaging Students: The Influence of the Student Voice Student engagement is well known to be a key factor in student success in academic courses. While the goal is to have students become active participants in learning mathematical skills and concepts, how that is accomplished can sometimes be elusive. When we survey instructors in STEM disciplines, 86% agree that their students struggle due to inadequate study habits or lack motivation. Research with students reveals more detail about the study habits and behaviors of our students. We will discuss what we have learned through interactions and research with students and what this says about student engagement. Some practical applications are then addressed around class management and course-design across the curriculum.
Travel Grant Award Winners
NCMATYC was able to award five travel grants. The following are writings about the conference from travel grant winners.
Katie Lovin – Johnston CC
The experience that I had at the NCMATYC conference at Pitt in Spring 2015 had me very excited to attend the Spring 2016 conference at Southwestern. I was a little overwhelmed at the 2015 conference since it was my first NCMATYC experience. I especially enjoyed Ryan Bean's talk on "Undoing the Chain Rule", and I have been successfully using it in my Brief Calculus classes for a couple of semesters now. I was better prepared for the 2016 conference and walked away with a lot of great ideas that I have already started implementing.The presentations were excellent, and I really enjoyed meeting some of the instructors that I had already spoken to via e-mail. I'd like to extend a special thanks to the instructors from Pitt Community College for responding to my e-mails quickly when investigating text options. I teach Linear Algebra and really enjoyed hearing from Lara Smith about hands on activities that she is using. I've been trying to expand on application labs for MAT-280 because of the large numbers of engineering students that take the course and the eternal question "Where will I ever use this?" I agree with Eric Shulz that math is just beautiful, but I do try to answer that question for the students anyway.I'm very impressed with the labs and activities that different instructors have created and am appreciative of their willingness to share. At Johnston Community College we have been focusing on the creation of labs so that our students gain the experiences that they need for their future studies and/or careers. Thank you to all of you who are sharing activities, especially Luke Walsh, Lisa Meads, and Muffy Vestal.I can't say enough how grateful I am to have had the opportunity to attend NCMATYC and for all the excellent presentations. I hope to continue to attend on an annual basis, and maybe one of these times I will have something to share. This conference really makes me excited about math all over again.
Francine Long – Edgecombe CC
First off I would like to thank NCMATYC's board for selecting me as one of the travel grant recipients, it is wonderful to save Edgecombe Community College 240 well needed dollars, $200 for the hotel and $40 for registration. I will be briefly describing the sessions that I attended for the 2016NCMATYC conference in the beautiful Sylva, NC that is 6 hours west of Rocky Mount, NC where Edgecombe Community College is, and I live. The first session at 9 am Thursday March 10, was actually the one that I was presenting. I spent about 45 minutes presenting the set-up, delivery and data from Fall 2015 of Edgecombe Community College's DMS 001-003 Shells. It had a pretty good turnout. I was not expecting that many attendees. There was some discussion on DMA 065 also. The second session I attended was at 10 am by Caleb Marshal. His presentation was on bringing Statistics to the 21st century. He did a wonderful job and shared some tools that we could use in our MAT 152 classes such as WTFvisualzations.com and statcato.com. He also shared his website calebmarsh.webs.com, I do not think he will mind if I share it with all of you. The 3rd session I attended was presented by Dale and Jim on Spoons, Excel, and Confidence intervals. I have been to another of Jim's presentations, and along with my husband (works on metrics and data analysis) they are lovers of excel and can make it do magic. We were supposed to do an experiment with spoons, but we ended up using forks. He also shared his project with us, I will
probably use it in my class later this semester. After the wonderful lunch provided by Pearson we all had the opportunity to learn about polynomial roots and critical values from Eric Shultz. I was too engaged in the activity he displayed to take notes on this. It was very enlightening. At 2pm I learned about engaging students from high school in a presentation by Jay Martin and Julia Smith. This inspired me to try to connect as often as I can with our local high school teachers to share real word activities that they can share with their classes to possibly help high school students discover their place in this world. I will probably need to get with all of the other department chairs to see what the students will actually be doing that pertains to math. The highlight of the afternoon was the presentation by Billy Hix on an astronomer's journey and the band members of Queen.After an eye opening presentation by Holly Bass on some real word stats projects, that I will so use in my classes, we adjourned for the day and all went our separate ways UNTIL 7pm. The evening social was held at the Jarrett House and sponsored by McGraw Hill, and of course in attendance at the evening social was McGraw Hill's own Scott Robin. The hors d'oeuvres were great, some a little too spicy for me. I did stick to the 2 drink maximum; Michelob light was my choice both times. 8 am Friday
morning we enjoyed a very hearty breakfast and the business meeting. Many were honored and some won prizes (none for me). At 9:25 the session attending resumed. I attended the capstone project for statistics by Sue Ann and Brittany from Tennessee. It was a long one but we learned a lot about creating and implementing a capstone project, we also received a flash drive with capstone projects they have used in their classes BONUS!. After a quick trip to the snack room for a bag of Chex mix I found that my 11 am SLOwly stirring the pot session was canceled, I was using my schedule and did not look at the one I was handed, I am just as bad as my students sometimes. So I attended the 11 am Redesigning the redesign, but Susan could not make it and Colleen stepped up and shared as much as should could about how they have DMA 010, 020 and DRE 096 in transitional studies to help the students succeed. It turned into a great round table discussion. Lastly we sat in on a very intriguing presentation by Jonathan McDonald on how to engage our students. I took a lot of notes on this. He shared a motivating step-by–step process to helping our students to become engaged and not just involved, by setting challenging yet attainable expectations.I believe the 6 hour, each way, drive was well worth it to have the experience of attending these wonderful experiences of learning and sharing with our colleagues. So, next time you think "it is just too far to go for a conference" think again. The scenery itself including the hardwood trees in all of their spring glory along with the old timey feel of the town make it worth the trip.
Holly Bass – Brunswick CC
I am very grateful to have received a travel grant to attend NCMATYC 2016 at Southwestern College. It was such a wonderful conference of valuable information! I attended many sessions on Quantitative Literacy and Statistics. It was very exciting to learn about a model that Forsyth Tech has created to eliminate the textbook in their Quant Lit courses. I was already heading this direction in my courses, and this came at perfect timing to connect with these instructors that will assist with the process for optimal success.It was very rewarding to share real data labs I am currently using in my Statistics and Quantitative Literacy courses. This session allowed a gateway to share and critique our experiences from colleges across NC. It has motivated me for future labs to benefit and interest my students.The most valuable part of the conference was connecting with other instructors across NC. I am at a small community college and I do not have the big department to bounce ideas off of and share innovative teaching techniques. I am so incredibly thankful for this opportunity to grow as an instructor to help my students!
Cynthia Delafuente – James Sprunt CCFrom the edge of the sea to the mountain slope
We trekked to yonder school
As we congregated to share a slate
Of Math problems to resolve,
And methods we could shareFrom fantasy to reality
The script is infinite:
Star Wars, and a car on Mars,
And the moose that lived in the house,
Inspiration and delegation of STEM and Study so handy,
We shared the roots on a common plane and critical points so dandy,
What splendor we can share!NCMATYC Math Conference 2016If you did not attend the conference this year you missed out. This conference was in the beautiful mountains of North Carolina at Southwestern Community College. I would say this is a 5 star rating. There were some really awesome sessions, literally something for everyone from developmental math through graduate programs.I learned quite a lot about how other community colleges manage their DMA classes and best practice that different school are using to promote success in students. This has opened my mind to things I had not considered before. The sessions on new or different books and software were interesting also. Some of the publishers have improved their books and software a lot in the last three or four year since the developmental math redesign.

I enjoyed all the speakers; however I think my favorite was Billy Hix, maybe because I love science. I believe what he said about teachers is true: As teachers we leave an imprint on a student. He had a bad teacher experience as a child in school but overcame that to be a scientist and mathematician. As teachers we need to always strive to have a good relationship with students. Encourage them to do their best and succeed in their goals.
CONFERENCE INFORMATION
The 2016 NCMATYC Conference will be March 10th and 11th at Southwestern CC. Click here for the campus map and click here for driving directions. NCMATYC is very excited to be having the entire conference in the beautiful Conrad G. Burrell building. A virtual video tour of the campus can be seen by clicking here. An overview of the Burrell building begins at 2:54. There are great shots of the classrooms where the presentations will be held. Also, be sure to check out the pictures of the conference center, where lunch and breakfast will be held.
THURSDAY NIGHT RECEPTION
The Thursday evening reception will include food, drinks, and even feature the live band, Circus Mutt! According their webpage, "Mutt music happens when two Pennsylvania boys get together, combining the shared influences of rock 'n roll, reggae, Jazz, and bluegrass while remaining true to their working class roots and country-lovin' sentiments." So, get ready for a great time of Math Mutt Music.